Here is the biography that I use for speaking engagements:
Clancy Childs is the General Manager of Dow Jones' knowledge enablement unit, which is focussed on connecting the company's diverse news and data to deliver new products and insights for customers.

He was previously Chief Product and Technology Officer of Dow Jones'  Professional Information Business where he was responsible for the development of the company's DNA Platform and its suite of professional information products, including VentureSource, Risk & Compliance, Newswires and Factiva.


He has served as Chief Data Officer and Chief Product Officer for several businesses in various industries and stages of growth.

Prior to working at Dow Jones, Clancy was the London-based Product Manager for Google Analytics, focussing on the feature development and international roll-out of Google Analytics Premium. This included launching features such as unsampled reporting, integration with Google BigQuery and privacy controls. Previously, he worked on products including AdSense, Google Maps, Google Apps and Checkout.

He holds an MBA from London Business School and a Bachelor of Science in Computer Science and Economics from the University of Michigan.

Here is the most recent corporate head shot: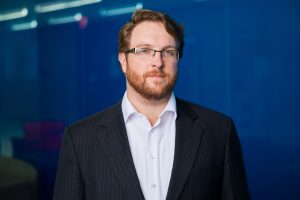 And below are two older head shots (out of date, but feel free to draw on a beard if you like):